Gambling SEO: Ranking Number 1 for Casino Keyword in Finland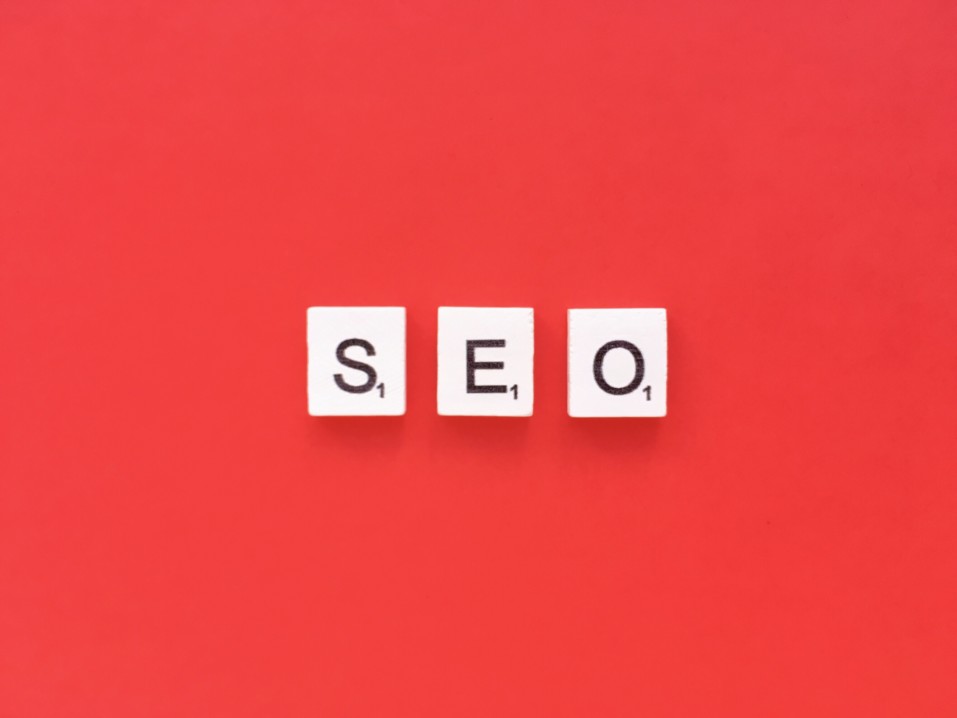 The results: Position 1 for 18,000/month volume money keyword in Finland
At Aphex Media, we're both good and "lucky" up to a certain extent. We're good because we can rank hard keywords. But we're also lucky that our clients trust us enough to give us hard AF keywords to rank.
Of course, that luck has come over several years of getting results, so not the luck of being at the right place at the right time. The kind of luck, that our clients WILL rely and trust our advice.
And because we never shy away from a challenge, we took on this project head-on.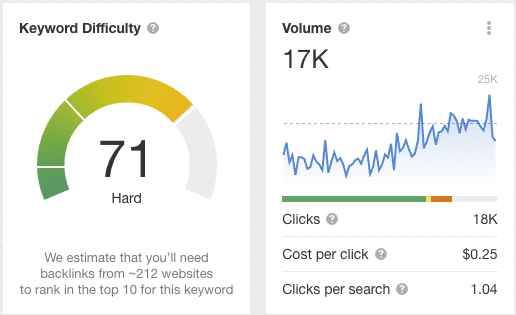 71 KD (Keyword Difficult) Hard keyword in casino / gambling industry
So yeah, you can see from the amount of links ahrefs recommends just to get to the first page, that this was not going to be easy.
Given the prevalence of hidden domains in this niche, we typically take this estimate with a pinch of salt. There could easily be twice as many hidden links as can be seen by SEO tools.
Of course, being in the gambling niche ourselves, we do have a few cards up our sleeve (excuse the pun!)
This client was a gambling / casino vendor, with a top casino product, who had acquired a great exact match domain (EMD).
Now, while an EMD can be rewarding, they are not without their own challenges, something we had to keep in mind while working with this asset.
As per our client NDA agreements, we are unable to reveal the exact gambling SEO keyword, but we will share what we did in terms of on-page and linking to the domain to get such results.
Age of site before campaign
Unknown … site was ranking but not in significant positions
Casino Vendor (name withheld)
Increase organic traffic through top rankings of high intent money keywords together with general improvement of relevant traffic to the website aimed at conversions
EMD can be considered spammy and are very easy to over optimise with the domain being held back from rankings.
Keyword research, on-page SEO, link network, link planning
1st organic position for money keyword on both desktop and mobile
Once again, we were handed a site that was well-designed from a UX point of view, but little attention was given to search engine optimisation. No actual SEO had been done previously on the site.
On the other hand, given that this was an EMD where the product was spot on with the user intent, we still had solid groundwork to work on.
Like we stated before, this was a casino vendor, with a good gambling product, so once the client lands on the site after an organic search, a conversion is likely, both from a "bounce rate" point of view and a revenue perspective.
This is always a key factor in rankings, so this also worked in our favour.
Still, the competition in terms of links was cut-throat as you can see from the below screenshot.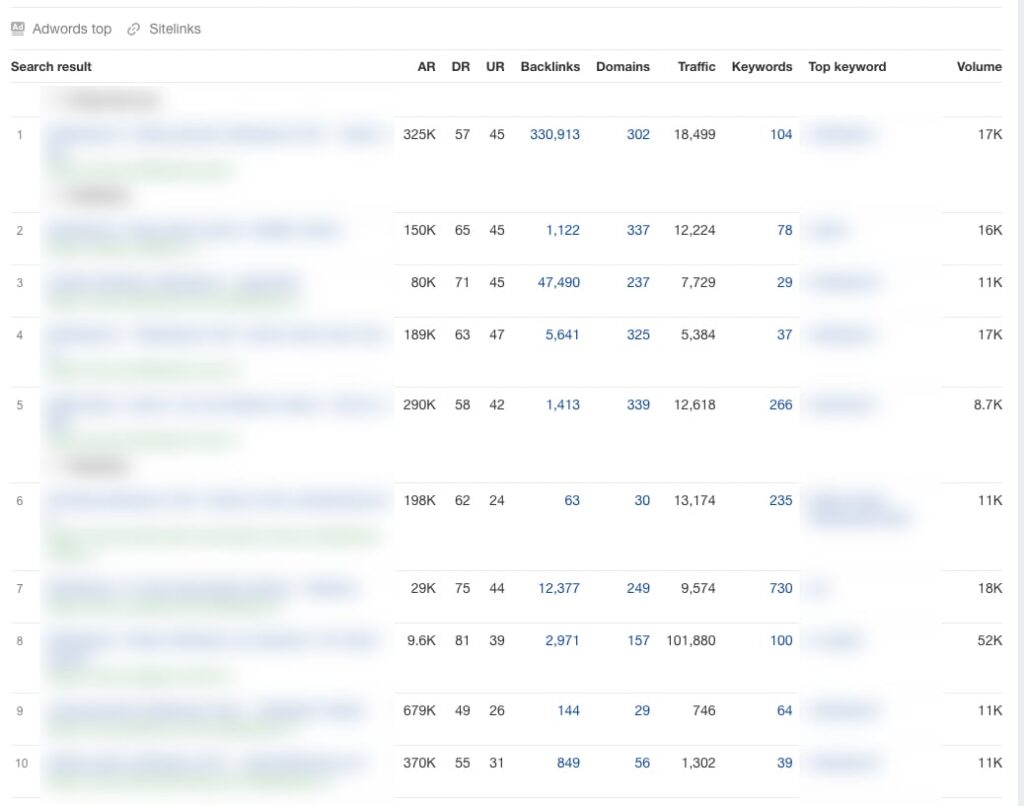 As you can see the links to each domain are significant.
You can also clearly see that the Ahrefs Rank are all within the top 700,000 websites worldwide, meaning all of these sites had HUGE authority.
The DR (Domain Rating) of each site are all in the high 50s and above, another signal that the links to each domain are quite powerful.
We clearly had our work cut out for us.
Our standard gambling SEO processes usually take the following form:
Keyword research for money clusters + supporting content
Writing + Uploading content
On-page SEO
Technical Analysis + fixes
Off-page SEO campaign
Gambling Link Network
The same model applied to this niche and this campaign, however, we already had the main money keyword we wanted to go after.
We therefore developed a content plan of supporting content for the keyword, together with supporting content for various gambling pages.
Such a content plan was developed such that we could rank not just for the main money keyword, but also for other (lucrative) money keywords and long-tail phrases.
Such keywords included, in the respective language.
Gambling
Casino games
Slots
Slot machine
These are all highly converting money keywords, with huge volumes of their own.
The client had the actual product pages developed, but little to no content on the pages. 
1. Keyword research for supporting content
As per our gambling SEO process, we created a full site plan of content for:
Money pages
Supporting content
Informational content
We typically go for a blend of content, to ensure a natural balance of money vs informational pages. This typically helps the overall health of the domain, though this varies by niche.
To come up with the money pages and supporting topic, we typically use a blend of niche expertise (i.e. the experience we've built over the years working in the gambling industry), together with competitor analysis.
2. Writing + uploading content + on-page optimisation
Once we had the site plan defined, we started churning out content and putting it in place, together with the client team.
As part of our uploading process, we also fully handling the gambling on-page SEO optimization including:
TITLEs
URLs
H1s
META descriptions
On-page optimization for word length and keyword ratios
Strategic internal linking with appropriate anchor ratios

The way we set up the anchors for our money sites is part of our secret sauce, so we will keep that as something you'll discover when you become our client 😉
As per our SOP processes, we also build sites to a strict site structure to ensure that the site is easily discoverable and crawlable.
This also includes very careful internal linking that ensures that link juice flows nicely from page-to-page ensuring good rankings for all the money pages, even the ones that get less attention when it comes to link-building.
4. Technical SEO Analysis
Technical SEO analysis is an on-going process during our site builds and SEO campaigns. This analysis works both ways.
First, we ensure that we don't introduce technical SEO problems as we build. Such stuff as ensuring that no thin pages are created, correct use of robots file and nofollow / noindex tags as necessary, usage of sitemaps and other optimizations that are handled as part of our SOPs.
This is the most important part of technical SEO.
The build of a site has to be done in an optimal way, because you cannot "fix" a site that has been built incorrectly and this will hamper all your ranking efforts.
These technical problems will never be discovered with a technical audit, because they would run deeper than a site audit. 
An example of such deep technical issues would be certain types of Javascript front-ends which are usable and look great from a users perspective, but simply not crawlable by a search engine, leading to a site that can never rank.
Our SOPs ensure that such problems are not introduced, knowingly or unknowingly (e.g. by web developers who are not familiar with SEO practices).
Second, we run regular audits on the site, so that any small issues such as redirect chains, or 404 pages are caught and fixed quickly.
5. Off-Page Campaign / Gambling Links
Once the site had been built it was time to start juicing up the money pages. The great thing about the way we build our site is that link power flows both ways, from the top down to the long-tail pages, and from the supporting content up to the money pages.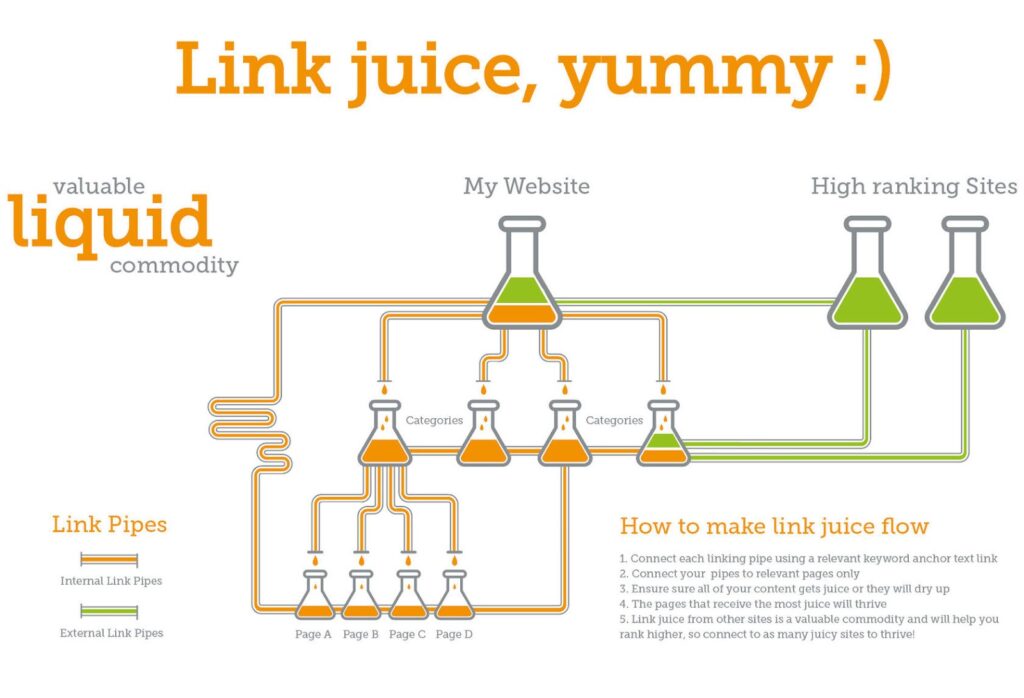 This is a generic example of how we set up our internal linking to flow juice to different pages
Given the niche and our strength in building powerful link networks, as part of the SEO campaign, we had a good budget for building a sizable network. 
It must be said that because this keyword was already showing signs of ranking, it was clear to us that it was missing the necessary raw link power needed to take it to the top rankings.
This is a highly profitable money keyword, so the client could see the ROI on the budget required to create a good-sized link network to use to power up the site.
Therefore, as part of the client quote before on-boarding, we had suggested a niche relevant link network (size of network cannot be disclosed for obvious reasons).
As per our NDA with the client, besides the size of the network, the niches of the domains, site metrics and build types are not something we can share.
(Rest assured though, that as an Aphex Media client, you will enjoy full transparency. You will be able to see ALL of the domains we are using, with all of their metrics and your own money links though our custom-built link network management software. You can see an example of a domain view for one of our link networks – some content has been blurred.)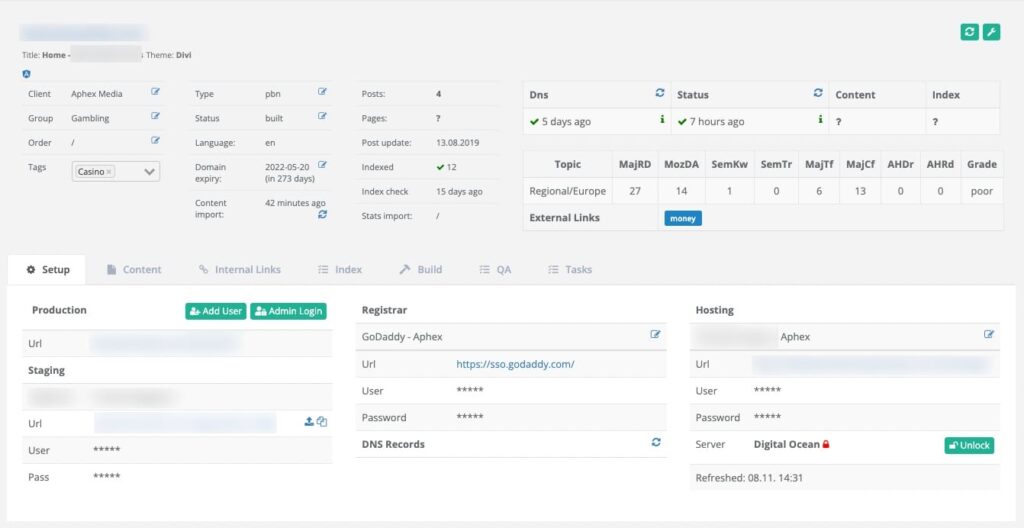 Our clients have full transparency and visibility into their own link networks through our custom-developed software
Because we had all of the ground work in place, once the link network had been built and aged, once we started sending links – we got the results we wanted, fast.
First of all, let's have a look at the traffic value of these keywords. Note that we are tracking ONLY 13 keywords but the value of these keywords is insane.
Note that these are all actual screenshots from our Accuranker for the client site.

Phenomenal traffic value and Share of Voice
Pretty good, don't you think?
And check out the rankings. Solid 1st position. For several years.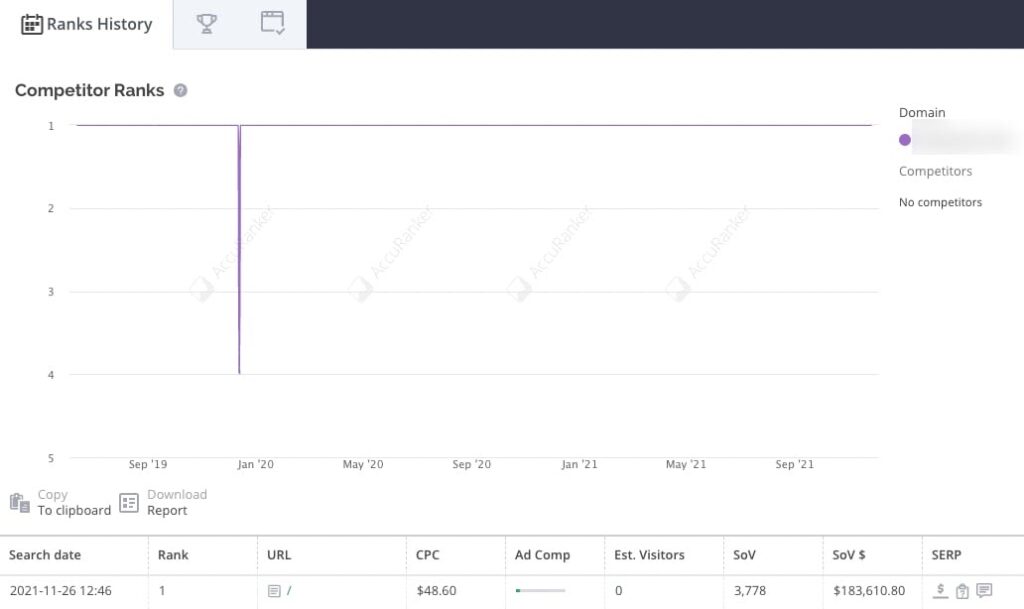 Solid 1 place rankings, for several years. Check out the CPC and SOV$ value!
Unfortunately, we don't have the full history of this keyword, but the above ranking positions are what the site has been achieving for the last 2 to 3 years during which the contract with our client is active.
Below is a 2nd money keyword, another keyword that has been steadily in the top 3 SERPs with most of the time being in the 1st position.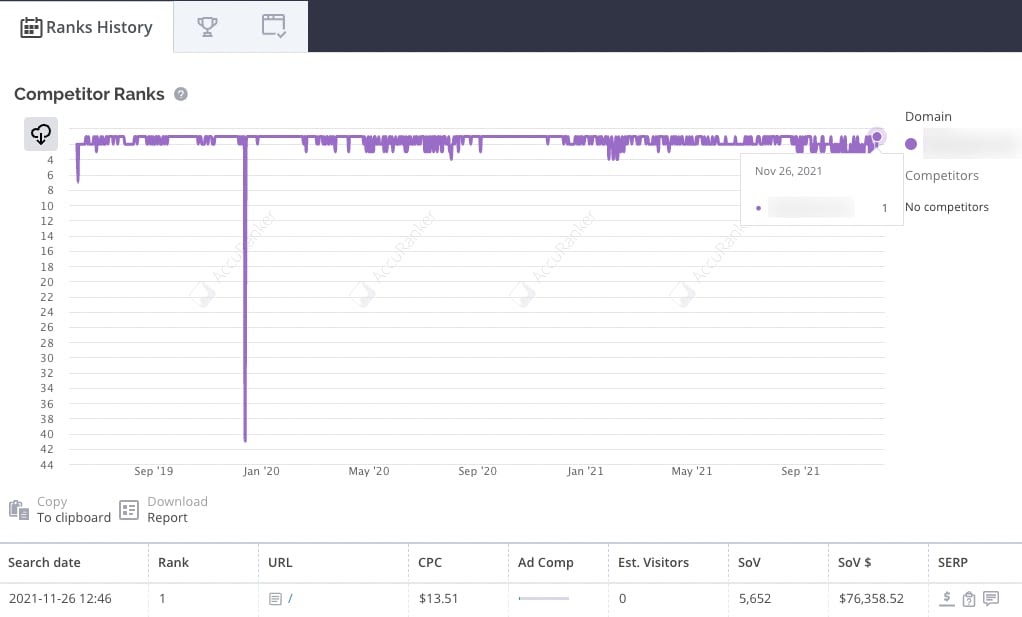 This is 2nd money keyword on the same site
Do have a look at the CPC and the SOV $ value for both of the screenshots.
Once again, in this case study, you can see the solid ROI. No wonder we have been working with this client for almost 3 years!
What Our Gambling Client Said
This site had been struggling to reach top rankings after working on the site with different SEO agencies.
We started working with Aphex Media after a referral from another gambling player.
We had already seen some of the results, so we were eager to work with Aphex to see whether they could get our site moving from the positions where it had gotten stuck.
The results we got were mind-blowing. Top rankings, with an excellent ROI. However, more than just results, the results have proven to be long-term. Month over month, the site has remained in the top positions and one of our high-revenue online assets.
We look forward to keep working with Aphex Media and would be happy to work with this gambling seo agency on other projects which we have.
Want to get similar gambling seo results?
Here at Aphex, the gambling, casino and gaming industries are our bread and butter. We have worked in the industry for several years and we can get solid results at a good ROI for our clients, as you can see from the above case-study and other case-studies.
If you want to get results similar to the one above, fill in the details on the form below to schedule a 1-on-1 call with one of our top SEO consultants. We'll discuss your long-term plan for your site, and together we will define a plan for making your site a strategic, money-making asset, with a budget that makes sense for you.