Outreach Link Building and Guest Posts
The Skyscraper has fallen.
You already know that to rank for any money keywords, you're going to have to build links to your content.
And while the Skyscraper technique was a great way to build links a few years ago, these days, the technique has lost all of its effectiveness.
Webmasters and website owners have recognised the value of a link and the link-building success of the Skyscraper and other similar techniques (such as Resource Link building and Broken Link building) has gone almost to zero.
So much so, that is no longer worth investing your time in such techniques.
Of course, there are still some ways to get free links, such as creating in-depth data-heavy, research reports and present them in an excellent way, or building such stuff as online calculators, but the ROI of these methods are typically only affordable to large brands who have huge marketing budgets.
Guest posting still works but ...
So Skyscraper no longer works, and other methods are expensive.
The good news is that there is tried and tested method that still works: guest posting.
However, doing guest posting RIGHT is still ridiculously time-consuming. These are the exact steps you need to do to get a guest posting link:
Prospect for links placements using competitor link research or finding sites that allow guest-posting in your niche or shoulder niches
Filter out the spammy domains, low-metric domains, or domains with no traffic, link-farms and PBNs
 Find their email address or contact details
Send out a personally customized outreach email
Follow up if they do not reply
Negotiate a title, domain to link to, anchor (and price for placement)
Write content for the post
Get the content approved the webmaster
Wait for the post to be published
Follow up when you don't hear from them
Send any payments agreed on
And this is only for a single link.
After a while, your emails might start going to spam, so you'll have to start afresh with a new email address.
The process is extremely time-intensive. Unless you have fully optimized and lean SOPs, the ROI is simply not there for most people.
Outreach + Guest Posting Service
At Aphex Media, we have developed in-house lean SOPs in order to be able scale up prospecting, content-writing and link-building using guest posts.
Instalinko is our custom-developed a guest posting ecommerce platform that allows you to use a number of filters to find guest posts on thousands of websites, in any niche, language and at a price that suits your budget. In fact, when it comes to link-building, we make sure to negotiate the best prices for link placements which we then pass on to YOU – our clients.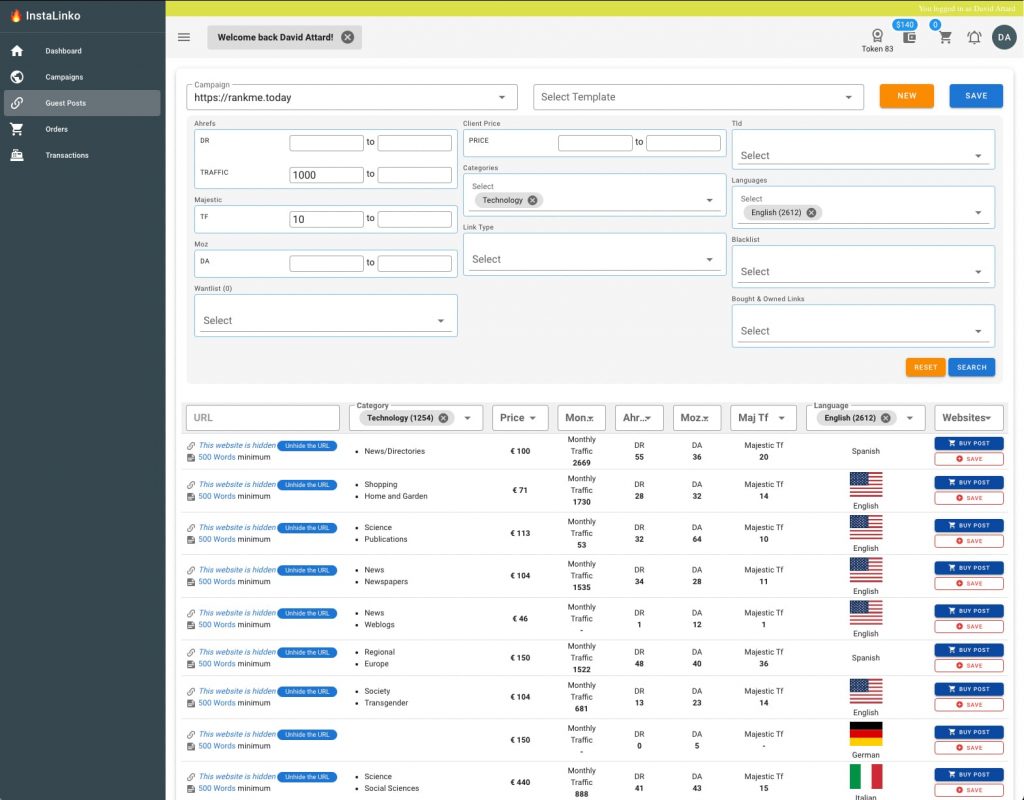 By doing most of the hard, time-consuming work, you can simply login, find a number of prospects in your niche and start building links TODAY.
Guest Posting for Agencies
We have thousands of websites in our outreach database and we add between 500 and 2000 new websites every month to each our database.
This allows SEO and marketing agencies to build links at scale for their own clients at a price which is great for any budget.
Guest posts are built to specific campaigns so you can keep everything organised and reconcile your finances and charge your clients accordingly.
Outreach links for startups and growing businesses
If you're a startup or business in their growth phase doing your own in-house SEO, this service will save you hundreds of hours in prospecting, content writing and everything else that goes with maintaining an ongoing outreach campaign.
If posting your own content is important for your business, you can submit your own content in Instalinko.
If you prefer to have everything done for you, simply give us a title or subject and we'll handle everything else.
As part of our value proposition, we also provide the facility of a "want list". If you would like links from websites you've found through competitor research, you can these sites to our "Want List" feature.
Sites added to this list will go into our outreach queue, and if we successfully negotiate a deal with them, the sites will be available within a few days or weeks to get links from!
Done For You Link Building
Do you prefer a hands-off approach to link-building and even full SEO campaigns while you manage your business?
Our Done For You link building service can handle it for you. We can agree a monthly budget that makes sense for you, your money keywords and pages and we'll handle it all for you.
At the end of the month you'll get a report of links that have been built.